Tell Me More Language Software

Review
ConsumersAdvocate
.org
Rating:

8.9

/

10

(Excellent)
Tell Me More Review
Tell Me More has since been acquired by Rosetta Stone which makes it interesting in terms on how it approaches teaching a new language. Tell Me More labels its language as the "Pedagogical Approach" which is not exactly the same as those being used by Rosetta Stone. However, its business is more focused towards corporate and higher learning. Its training course is suited for intermediate, advanced and business communication in general. Tell Me More is offered in nine languages.
What's included?
Tell Me More is available in two formats, Webpass which uses online functionality and comes with lessons and exercises. The second option is through CD/ DVD software. Both options contain lessons and exercises presented in multimedia format.
Tell Me More is based on a Software-as-a-Service platform that contains 2000 hours or instructional content and 25 learning activities per language. Rather than dividing lessons into levels and courses a typical learning products contains lessons that help students progress from basic to advance. Tell Me More have specific products that are designed for Home school or curriculum based learning. Online tutoring is also available. Lessons are offered on a monthly basis. The online option is also available as an add-on for packages but it too has to be renewed making it a bit expensive.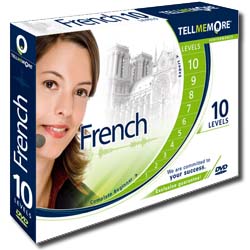 Format
CD/ DVD
Online coaching
Software
How does it work?
Tell Me More makes great use of interactive media and exercises. But as you could see in their website its services are designed to work for professionals (organizations and educational institutions).
Tell Me More's Pedagogical approach focuses on combining rich, quality content presented through the use of interactive multimedia to bring a more immersive and flexible approach to learning. Various activities aim to develop a student's communication skills (listening, reading, speaking and writing).
It does not only teach the language, Tell Me More also introduces the student to the culture of the country where the language is spoken. Speech recognition software and online coaching then helps refine the student's skills into near native levels.
Tell Me More also offers a more personal approach to learning. Students could define their own learning strategy. This allows them to map out a learning course that is more suited for their learning style.
Costs
This is one factor that clearly describes why this program is better suited for businesses, government agencies or professionals. The course is on the more expensive side but the amount of content and how this is presented could justify the price tag. The exercises were great but could be very confusing for the uninitiated. The course is just overwhelming especially for new students who don't have prior training with the language.
French Course
Online lessons - $42/ month
French lessons and exercises on software CD/ DVD - $229 (Beginner to Advanced)
Private French tutor (Webcam) - $142/ month
Homeschool French Online curriculum - from $74.25 / high school year
Homeschool French Online curriculum on software CD/ DVD - $299
Bottom Line
Tell Me More is a course designed for intermediate learners, business professionals or higher education learning. This might not be suited for beginners or tourists planning to take a quick course. If you're looking for an introductory course then you could try the other language courses in our review.
Start your review for Tell Me More Language Software